---
People often ask me… Can I open a lemonade stand? Well…
Hell yeah! Let me share with you a recent story…
This past weekend…
My friend Donny and wife Sheila set up at a local event. Although he has a hot dog cart – he was short on people and…
– decided to just do lemonades and orageades.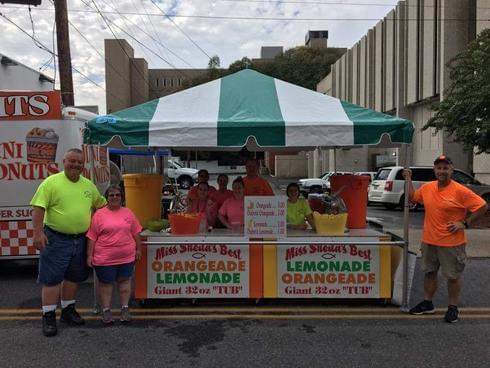 He's done the little event for sever years now so he knew what to expect as long as the skies didn't open up and drown them with these October rains.
Luckily – he did.
He could of used a handful more people and he already had over 10 working the stand with him.
Even though there were other vendors and some doing lemonades – Donny rocked it!
He had an ice truck parked behind him so he could grab iceall day long.
Can I open a Lemonade Stand… and be profitable? …
Of course!
Donny did $XXXXXXX!
I'm not kidding.
"lines 70 deep 3 wide"
He told me his numbers and my mouth dropped open. A huge day by anyone's standards.
He asked me NOT to divulge the amount.
But you might be able to get a clue…
10,420 POUNDS OF ICE!
That's how much he used.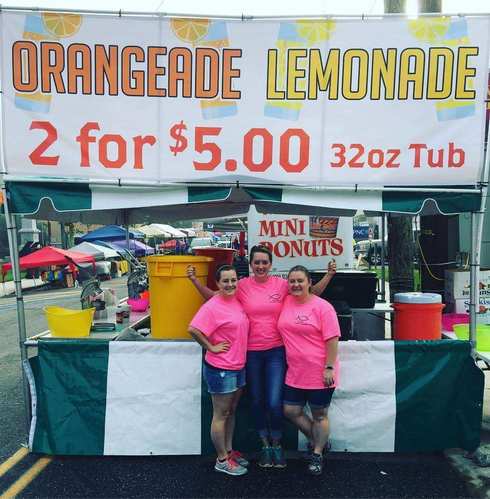 Granted… his prices were super low.
It's a small town and a small event.
But everybody wanted his lemonade.
The prices were $3.00 a cup "tub" of lemonade but he'd go out into the line and pre-sell (keeping them there) a coupon for $5.00 for 2 cups.
He served thousands!
He's got a great system and he swears by using the hand smashers (citrus press).
In fact he loves them so much… he's adding more.
Of course he can afford an air press or 10 but… "why" he says.
Lemonade is nostalgic and the hand press is part of it.
And if you're still wondering in your mind…
… "can I open a lemonade stand and make good money with it?"
My answer is a big fat YES! And this is why I've done this for YOU.
I took all the best info… and put it into one place. One single ARTICLE…
So no matter – if you're – ready to add lemonade to your existing business or make it better – one Article does it all.
You see…
Donny is in North Carolina.
In October…
And just made a killing in 2 days.
Why wait?
Why not get it going now.
I'll show you how to do it on a budget… right here.
You could literally make enough to pay yourself back…
Pay YOURSELF!
and more… all on that first gig.
How many gigs you have left around you this month?
Freedom is contagious…
And I want you to have more of it!
Get some,
Ben "LEMON HEAD" Wilson
P.S.
Dude told me on the phone yesterday that he's waiting till this Spring before he starts.
What the heck?!
Why? – I said.
"cuz it's 'bout winter and it's too late to start"
Says who?
Are you a moron? (thought it – didn't say it)
You have opportunities right now – and it only takes one and you could have some thousands in your pockets.
*or your bank (your choice)
Or you could just procrastinate it on. Do nothing and get nothing.
REally?! What's your risk?
AbsoFreakAlutely – NOTHING!
And if you're serious and wanna go forward, right now… get my FREE course  24hour To Lemonade Cash Course. Learn how to start a lemonade stand and be making cash in 24 hours…
Did we help you? Give us your love with a honest review (just click how many stars we deserve below)…