In this article, I will be sharing with you exactly how to start a lemonade stand business. One that can make you $30,000 and even much more. We have vendors currently in our Vendors United group who make well over $100,000.00 annually with their lemonade stand.
Many Vendors are having amazing, real monetary results from applying what I teach here and in my free and advanced courses.
If you're looking/searching for…
How much to charge for a lemonade stand?
How to run a good lemonade stand?
Is it legal to have a lemonade stand?
How to sell lemonade at a lemonade stand?
Do I need a vendor's permit to sell lemonade?
… or anything else regarding how to start a lemonade stand and run it successfully, then you came to the right place.
How To Start A Lemonade Stand – Everything One Needs To Know…
With this information you'll be fail-proof and YOU WILL be successful if you apply these steps.
A lemonade stand can pay for itself and have cash money profit from day one. Imagine starting with $300 to $500 and making double that back on your very first day.
Just this year I've watched, helped and talked with over 340 vendors who wanted to know how to start a lemonade stand.
The lemonade vending business is hugely profitable and downright fail-proof. As in – you need no luck or magic beans to make it successful.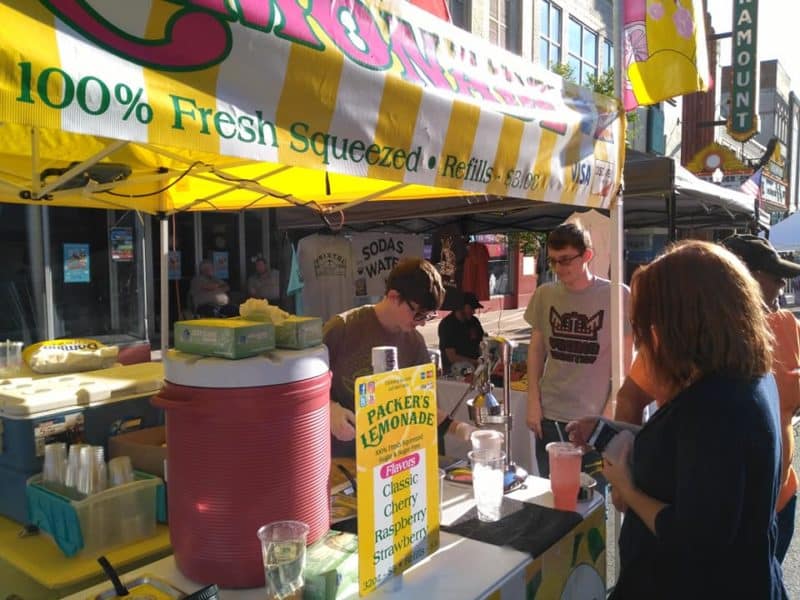 Is It Legal To Have Lemonade Stand?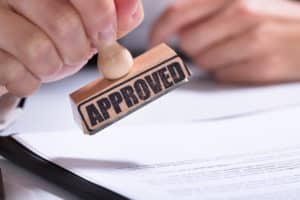 This is something you need to know before even thinking on how to start a lemonade stand.
The short answer is YES, it is legal to have a lemonade stand. That's the short answer but there is usually going to be some hoops you must jump through first.
Some states are very lenient on small businesses like lemonade vending and others are more strict.
There is always a legal way, but depending on your states health codes – will determine how you can have a lemonade stand.
I'll have more on how to find out what is required in your state down below.
Read more about if is it legal to have a lemonade stand in this ARTICLE.
How To Get A Lemonade Stand Permit
There is usually more than one permit or license required to start a lemonade stand business
A business license, the easy one to get – simply call your city/town offices and ask about a business license.
A health department permit. Can be harder to obtain and will likely have some requirements you must meet first.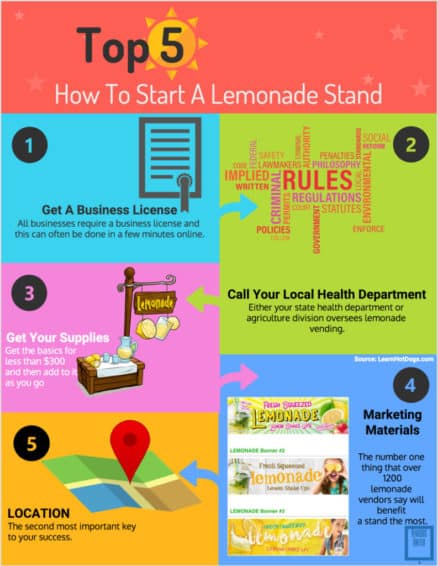 All in all – both can be done relatively quickly so that you can be up and operational in a day or two.
Contacting The Health Department
Simply Google: "your county" health department and get the phone number. Ask to speak to someone who handles restaurant inspections. They are known as the "Health Inspector".
Ask this person what is required to serve fresh lemonade at private events or catering events. If you plan on operating on the street or roadside, you can ask this person also about street vending lemonade.
They will give you the requirements.
Can I Have A Lemonade Stand Without A Permit?
Yes, in some states you are not required to have a license. These rules change from time to time but often, lemonade falls under the category of agriculture and like a produce stand, lemonade is grouped in with them. See instructions above for finding out.
The Usual Requirements For A Lemonade Stand Business
A clean work surface (non-porous)
A place to wash your hands
Follow proper food safety guidelines
You can get more details regarding if you need a vendor's permit to sell lemonade in this ARTICLE.
Portable Sinks?
Some states may require you have a hand wash sink nearby. Vendors have made their own on the cheap by using a DIY sink kit. They're pretty easy to make and you'll find a video that comes with the kits here.
How To Make A Lemonade Stand
A lemonade stand can be made as elaborate or as simply as you like. The biggest tip I can give you though, is that it doesn't matter. The most basic lemonade stand with: (see official equipment list with links below)
A fold up table
A popup canopy
That will do the trick. The tip is – your display, your on-site marketing (signage) and your appearance is what matters! You can read more in detail on how to make a lemonade stand in this ARTICLE.
[note: I didn't say price or fancy lemonade stand]
You can also check what is a good price for a lemonade stand in this ARTICLE.
How Do You Run A Good Lemonade Stand
There is no point on learning how to start a lemonade stand if then you don't know how to properly run one.
One of my dear friends and fellow member in Vendors United still has a very simple setup after years of vending. He's a local legend in his parts and makes a great income from the lemonade stand.
It's all because of his display, signage and appearance. Side by side with food trucks, he will win in volume every time. Here's a video I did with Ken – check out the cool tips and advice he gives.
For more help on how to run a good lemonade stand, read this ARTICLE.
What You Need For A Lemonade Stand
THE BARE MINIMUM (Approx. $300)
Other items if you don't have:
What Is The Best Price To Sell Lemonade?
Another critical point on how to start a lemonade stand and then run it to profits!
The best price to sell lemonade depends on what you're doing. Are you doing what the pros do or are you just trying to wing it? $6.00 is average.
The pros use 32oz. clear plastic cups. (the better to see the product – think walking billboards because each customer carrying that around is one)
Are you doing a pre-mix. OMG! I hope not! However, it works for some… (like this awesome vendor below)
But pay attention… she doesn't use those cheap pre-mixes.
FRESH SQUEEZED LEMONADE IS THE KEY
Use fresh squeezed lemons – right before their eyes and you'll command a price from $5.00 to $7.00. Most of our Vendors United vendors are averaging $6.00 without the addition of fruit. e.g. strawberries, blueberries Then they get another dollar.
WHERE CAN YOU OPEN A LEMONADE STAND?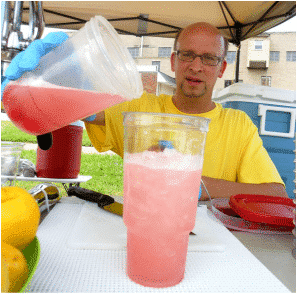 The best LOCATIONS / places to vend are where large crowds gather and on nice hot days. Some of these include:
flea markets
fairs
festivals
craft shows
auctions
city parks
beach side
public pools
large box stores like Walmart
farmers markets
Essentially anywhere you have people with mouths.
Of course some locations can be tricky to get but with some of my super secrets – you could be vending in front of Walmart and the Courthouse and about anywhere else you want.
Lemonade Press – Which One?
I love doing lemonade vending and recently got to go work with Janessa at an event. We rocked it. Ran out of ice. Got more ice – and ran out again.
If you watch the interview with Ken above, you'll pick up tons of tips and tricks and see the entire process. *note how he has everything within reach of one spot.
In the setup here, we're using a powered press. Powered presses are great but they have some drawbacks.
They are expensive, require tanks or compressor and don't have that authentic feel. However, the sound they make is an attention getter for customers. We've tested the speed and it's about a draw and the pros, most can do the hand press faster.
I have a free lemonade stand course here if you think you could get used to working short hours with big pay. It teaches you how to start a lemonade stand and be making money in 24 hours! hehehe
Are we helping you? Give us your love with a honest review (just click how many stars we deserve below)…

NEED TO KNOW –
TIPS
HAVE ARTIFICIAL SWEETENER AVAILABLE AND JUST LEAVE OUT THE SIMPLE SYRUP

HAVE Signs that are easy to READ from a distance with prices
USE the 140 count lemons (ask for 140 count) – sweeter / juicier
Emphasize Fresh – (squeezed before your eyes)
Offer Organic in the right areas/events
Blend up flats of strawberries and offer $1.00/more for strawberry puree' addition
Keep a bucket of sanitizing solution with rags for cleaning up spills, drips and splashes
Don't scrimp on simple syrup – it's like sweet tea – ya want it sweet (not kinda)
Keep good records – probably the most important thing you can do
If someone spills theirs, replace it for free (I know common sense)
Have help – You're gonna need it
Display fresh lemons on the counter in baskets
Some vendors are serving lemonade now in glass jars for more cash $$$
Come with plenty of change – at least $100 in ones and fives
Accept credit/debit cards with the Square. Cost just 3% of each sale but totally worth it.
USE non-chlorinated water for best results when possible (usually store bought water has no chlorine)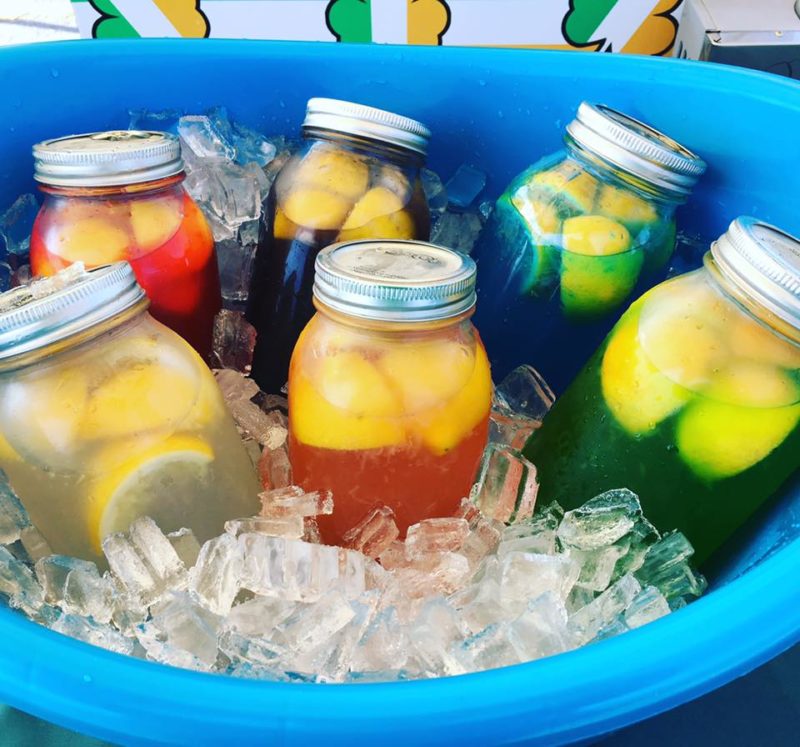 The Best Lemonade Recipe [WINNER]
This lemonade stand recipe is by far the best and has won hands down among the others tried by the vendors inside our private Vendors United group.
THE PRO VENDOR LEMONADE RECIPE
The basics. One lemon + ice + simple syrup + h20 = Cash in your pocket!
These are the steps…
ONE: CUT LEMON IN HALF
TWO: SQUISH BOTH HALVES (ONE AT A TIME) INTO MIXING CUP
THREE: PUT ONE HALF OF LEMON IN SERVING CUP
FOUR: PUT 3 oz. OF SIMPLE SYRUP IN MIXING CUP WITH LEMON JUICE
FIVE: TOP OFF SERVING CUP WITH WATER
SIX: SHIMMY AND SHAKE (but mostly shake the mixing cup *lid on)
SEVEN: ADD ICE TO SERVING CUP
EIGHT: POUR CONTENTS FROM MIXING CUP INTO SERVING CUP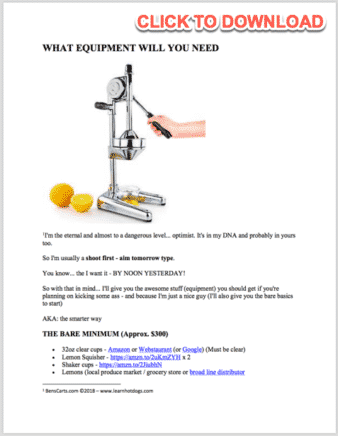 COLLECT: $4-7 FROM CUSTOMER
TIP: Refills price at $1.00 less
HOW TO MAKE SIMPLE SYRUP
A simple mixture of pure sugar and water. This is super hard so pay close attention…
2 parts sugar to 1 part water
For Example: 2 cups of sugar and one cup of water makes for delicious simple syrup
Why: Mixes faster, tastes great and saves time
TIP: Pre mix simple syrup at home… errrr… the commissary.
HOW: Bring water to a boil – add sugar and stir carefully until clear and dissolved. Let cool and store.
WHERE CAN I GET A COMMISSARY?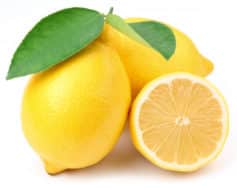 A commissary is a fancy french word for "commercial kitchen". Some states will require you have access to a commercial kitchen to do your clean up or any prep work that you may need to do. The health inspector will let you know if this is required in your state.
Don't worry. Most won't need one. But some will – and if that's you… No worries. I teach how here: https://learnhotdogs.com/how-to-get-a-commissary/
*if you're not street vending and only doing private gigs under the "catering" label, you probably won't be required to have one either way.
Can You Have A Lemonade Stand Year Round?
Yes. It really helps if you live in a southern state, but absolutely. There are some challenges for this though. Lemons are harder to get and more expensive in the winter months.
Additionally, most folks aren't prone to having something ice cold when it's cold outside.
Why Not Take A 7 Month Vacation?
We have vendors in Canada, Alaska and all those super cold areas of our country. Most don't work year round. Instead, they make all their money during the warmer months. One couple, work a stand on a lake. Because they have about 4 months of good weather and make over $40,000 during that time.
We have vendors in our Vendors United group who do small festivals and events and take in $5,000 – $10,000 and more during a weekend. So – it's definitely doable and you can too.
Alternatively, vendors have picked up other vending types for the winter which make a steady income year round while working just part time hours.
And We actually have proof! Over 30,000 vendors worth of proof. Some vendors use how to start a lemonade stand business to catapult their expansion into catering, street food vending and my favorite… hot dog vending.
You can see that in action here.
How To Accept Payment At A Lemonade Stand
Although a huge cash business, you'd be wise to accept credit cards. With the new systems, such as Stripe and Paypal you can accept payments instantly with your phone. Most of us use Square because it is simple to set up and customers recognize it immediately.
10 years ago, about 85% of all sales on a cart or lemonade stand were cash. Now – it's about 55%. The rest is… credit cards and debit cards. Make sure you don't miss that big opportunity.
How To Start A Lemonade Stand – Recap
Call your health department and ask about requirements
Get a business license
Get your supplies
Find a source for lemons
Get marketing materials
Find a location
Start vending
Bonus Step: Get the 24hour To Lemonade Cash Course Free. Learn how to start a lemonade stand and be making cash in 24 hours…
*Some links within this site may be affiliate links. This means that if you choose to purchase something from a link, we may receive a few pennies or some small percentage of your purchase. This in no way affects the price you pay.
Did we help you? Give us your love with a honest review (just click how many stars we deserve below)…